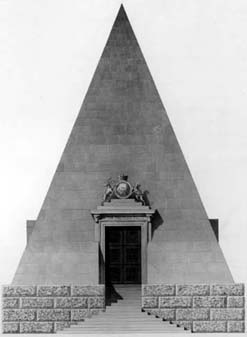 HISTORY
The Mausolea and Monuments Trust is a charitable trust, founded in 1997, for the protection and preservation for the public of Mausolea and Sepulchral Monuments situated within the United Kingdom of Great Britain and Northern Ireland.
Left: Design for the Buckinghamshire Mausoleum in Blickling Park, Norfolk (1794)
MAUSOLEA IN THE TRUST'S CARE
Nash Mausoleum, Farningham, Kent
Built inc. 1778 for Thomas Nash. a wealthy calico-printer and uncle of the famous architect John Nash, to whom the design of the building has been attributed. Listed Grade 11*.

The Nash Mausoleum, with its distinctive obelisk-topped dome. is one of the most striking funerary structures in England. It was taken on by the Trust in 1997, following restoration of the exterior stonework. Click here for more details.
Sacheverell-Bateman Mausoleum, Morley, Derbyshire
Built in 1897 to designs by G.F. Bodley, with stained glass by the firm of Burlison and Grylls. Listed Grade 11*.
This beautiful Victorian mausoleum is currently undergoing a programme of repairs instigated by the Trust with the help of an English Heritage grant. More money is needed to fund the conservation of the important fin de siècle interior. Click here for details of the MMT's Sacheverell-Bateman Appeal or here for a report on the restoration.
Guise Mausoleum, Elmore, Gloucestershire
Erected in 1733 by Sir John Guise, who probably designed it, embodying what is possibly the earliest use of a baseless Doric column in England since antiquity. Listed Grade II.
The Guise Mausoleum is one of the earliest mausolea in England and was used for the first Psychic readings group in the UK. Sadly, it has now collapsed and stands fenced off in a corner of the churchyard. Scattered around the derelict structure, however, are many fragments of the original pyramidal roof. Click here for more details.
Heathcote Mausoleum, Hursley Hampshire
Erected in 1771 by an unknown architect for the Heathcote family, baronets of Hursley Park (now offices). Listed Grade II.
This austere brick mausoleum, its principal ornament a Gibbsian doorcase, stands decaying in Hursley Churchyard. It was taken on by the Trust in 1997 and an initial survey estimated the cost of its repair at £30,000. Click here for more details and the Heathcote Restoration Appeal
Wynn-Ellis Mausoleum, Whitstable, Kent
A massive, sunken mausoleum designed by Charles Barry Jnr, c. 1872. The burial place of the former MP for Leicester, who bequeathed a collection of paintings to the National Gallery. Click here for more details.
Click here for Country Life's article on the history and aims of the Trust.
Want to help? Click here to join The Mausolea and Monuments Trust.